Why It's Important
Thousands of potential customers search for your products or services everyday on Google, Yahoo, Bing and other search engines. Thousands more find products and services to buy on social media. They're ready to buy and digital advertising is the quickest and easiest way to ensure they find your business.

Why Promio Is Different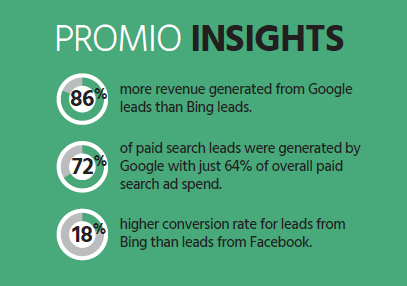 There are literally thousands of companies that can run digital marketing campaigns for your business. Truth be told, they all do it essentially the same way. They create ads, manage keywords, design landing pages, track phone calls, and report on vanity metrics like impression share, click-thru ratio, and cost per click. Promio is no different.
What makes Promio unique is our ability to track exactly how much revenue each campaign generates for your business.  So, instead of optimizing to simply generate more clicks, Promio optimizes your digital marketing to generate more revenue – and, isn't that really what you want?
Key Features
Advertising on Google, Bing, Yahoo, Facebook and more.
Customized landing page for your campaigns.
Built-in call tracking and recording.
Automated follow-up drip campaigns for each lead.
On-going optimizations specifically for each business and/or location.
On-demand reporting on vanity and business metrics.
No mark-up or commissions charged on ad spend.
Key Benefits
Convert more clicks to leads with personalized landing pages and call tracking.
Convert more leads to customers with automated follow-up drip campaigns.
Continually improve results with on-going optimization of your campaigns.
Increase your profitability by optimizing campaigns based on actual revenue generation rather than just cost per click or cost per lead.