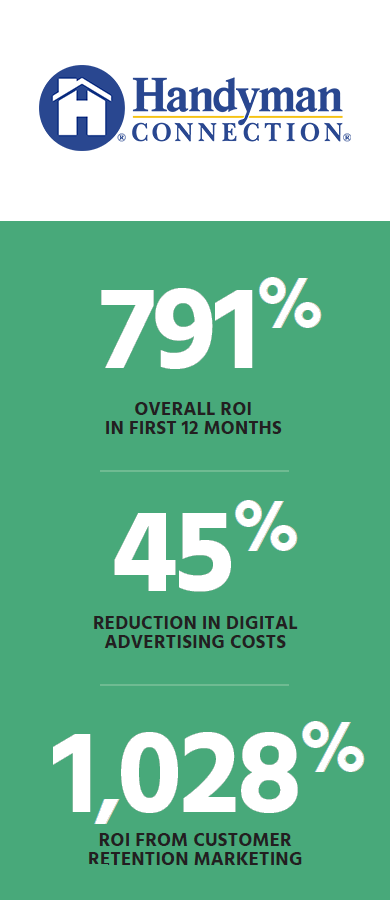 Handyman Connection is an established home services franchise with renewed momentum driven by an unwavering focus on unit profitability and brand experience. Focused on efficiency at the corporate level, their marketing team consists of a single marketing leader tasked with growing the brand. After completing significant enhancements to their operational technology, they were looking for a marketing partner that would position them to scale and drive continuous improvement.
Handyman Connection partnered with Promio to achieve four key objectives:
Consolidate local marketing activities into a single system.
Improve results from digital advertising.
Increase lifetime value of existing customers.
Track exact marketing ROI and develop performance benchmarks.
RESULTS
1,028% ROI on Customer Retention Campaigns
Promio executed automated customer retention campaigns targeting existing customers based on their buying behaviors. The multi-touch campaigns leveraged email and mail to customers with offers defined by individual customer segments.
Reduced Digital Lead Costs by 45%
Promio's automated digital advertising technology drove a 45% reduction in lead costs by optimizing pay-per-click campaigns for each location based on seven specific metric categories.
Simplified Marketing for Franchisees
Promio integrated with Handyman Connection's CRM system and consolidated several other marketing programs so franchisee's had a single system – and a single login – for all of their marketing needs. Promio's consolidated invoicing also meant franchisees could see all of their marketing expenses on a single invoice.

"The ability to maximize our customer database and create campaigns based on buying behavior made Promio the ideal choice for our system." — Marci Kleinsasser, Director of Marketing, Handyman Connection
"It's a simple solution that helps me stay in front of my customers and look to them like I'm doing
more than I am " — Patty Hatfield, Franchisee, NW Arkansas