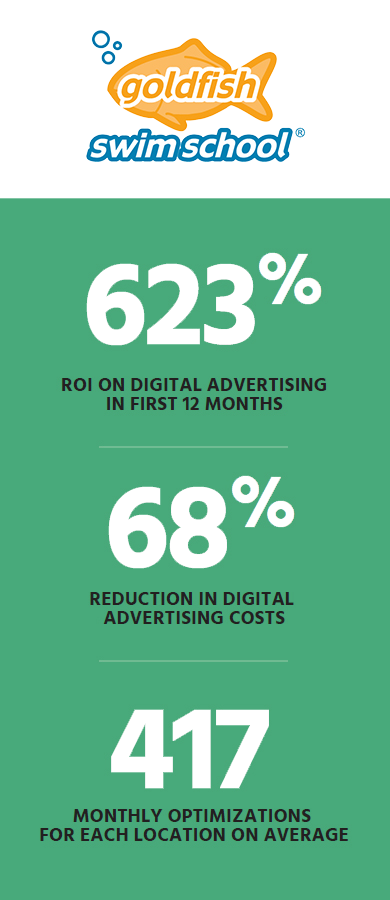 Goldfish Swim School is a fast-growing emerging franchise with an incredible track-record of driving profitability for franchisees. They had 23 locations open and seven more pending when they engaged Promio. They were using a traditional digital agency for online lead generation, paying both a fixed management fee and commission on ad spend. That "double-dip" fee structure was undermining profit margins and simply not scalable.
Goldfish partnered with Promio to achieve three key objectives:
Increase profitability on digital ads
Reduce management fees
Provide continuous optimization for each location
Establish performance benchmarks for digital advertising
RESULTS
Delivered 623% ROI
Promio's digital advertising system delivered a 623% ROI for Goldfish Swim School in the first year by reducing management fees, optimizing campaigns at a local level, and leveraging real revenue reporting to focus ad spend on the best performing channels.
Reduced Costs by 68%
Promio's automated digital advertising technology drove a 68% reduction in costs by eliminating all commissions on ad spend and reducing the fixed monthly management fee for each location.
Established Performance Benchmarks
Promio's detailed revenue reporting enabled Goldfish to set digital marketing
performance benchmarks for existing franchisees and new franchisees. Corporate
leaders and franchisees now have visibility into results for each location and how
those results compare to the rest of the network.

"The ability to see exactly how much revenue our digital advertising generates has revolutionized our online marketing." — Shana Krisan, Director of Marketing, Goldfish Swim School
"Promio is far and away the best thing that has happened for our business in terms of online marketing. The program has been a huge upgrade." — Matt Watson, Franchisee, Grand Rapids